Dr Robert Malone, the inventor of mRNA vaccines and RNA as a drug, tweeted that an agreement was made between Pfizer and the Israeli government stating that no adverse reactions from the Covid-19 are to be disclosed for a minimum of 10 years.

Dr Malone tweeted: "This is key to understanding "what the heck is going on". Apparently in Israel, I am told by an Israeli scientist, the agreement between Pfizer and the government is that no adverse events from the vax are to be disclosed for a minimum of 10 years."
Sen. Rand Paul released a video Monday pleading with the public to resist COVID-19 regulations issued by the government.

The Kentucky Republican asserted that a unified public rejection of restrictions intended to stem the spread of the virus would be too much for the government to handle and that "petty tyrants and bureaucrats" would be forced to drop mask mandates and similar policies.

"It's time for us to resist. They can't arrest all of us," Paul said in the video. "They can't keep all of your kids home from school. They can't keep every government building closed, although I've got a long list of ones they might keep closed or ought to keep closed."

Paul, a licensed physician and practicing ophthalmologist, is known in the Senate for his libertarian views and vocal criticism of COVID-19 regulations since the beginning of the pandemic.

Paul specifically called out House Speaker Nancy Pelosi and President Joe Biden by name, saying, "We have either had COVID, had the vaccine, or been offered the vaccine. We will make our own health choices. We will not show you a passport. We will not wear a mask, we will not be forced into random screenings and random testings so you can continue your drunk-with-power reign over the Capitol."

Paul also criticized "anti-science" mask mandates levied by the Centers for Disease Control and Prevention.

"We are at a moment of truth and a crossroads. Will we allow these people to use fear and propaganda to do further harm to our society, economy, and children?" Paul wrote in a message accompanying the video. "Or will we stand together and say, absolutely not. Not this time. I choose freedom."

This comes after the CDC asked the public to continue wearing masks in "high transmission" areas regardless of vaccination status.

"To maximize protection from the Delta variant and prevent possibly spreading it to others, wear a mask indoors in public if you are in an area of substantial or high transmission," the CDC stated. "You should continue to wear a mask where required by laws, rules, regulations, or local guidance."

The CDC has also pushed for those who have already been infected with the virus to get vaccinated anyway, saying the vaccine is more effective than natural immunity.

Paul has consistently been one of the most prominent critics of the Biden administration's COVID-19 policies.

"Rather than listening to government scolds, look to the science of immunology: and once you're 2 weeks out from the vaccine, or have recovered from the actual infection, trash your mask and live free again," Paul said in a tweet in March of last year.

Paul also announced in May 2021 he has declined vaccination, saying he had already built a "natural immunity" to the virus after contracting COVID-19 earlier in the year.

The senator has also made enemies with Dr. Anthony Fauci, clashing with his recommended adherence to the CDC's guidance.

Paul also sent a criminal referral letter to the Justice Department alleging Fauci lied before Congress about funding gain-of-function research in Wuhan.
Richardo Delgardo, who is a part of La Quinta Columna, has successfully tested an inexpensive way to remove magnetic graphene nano-particles from the human body after they were injected via a covid jab (aka vaccine). If you know someone who has had a Pfizer, Moderna, or Astra Zeneca covid-jab, which all contain graphene oxide nanoparticles, or whose body now sticks to magnets, then they need to see this video so that they can get rid of the magnetic nano-particles. You will see him describe what to do.
"Physicians who generate and spread vaccine misinformation or disinformation are risking disciplinary action by state medical boards, including the suspension or revocation of their medical license.
The clinical picture of COVID is the same as that of acute radiation syndrome. 5G and earlier antennas are related. Dr. José Luis Sevillano explains.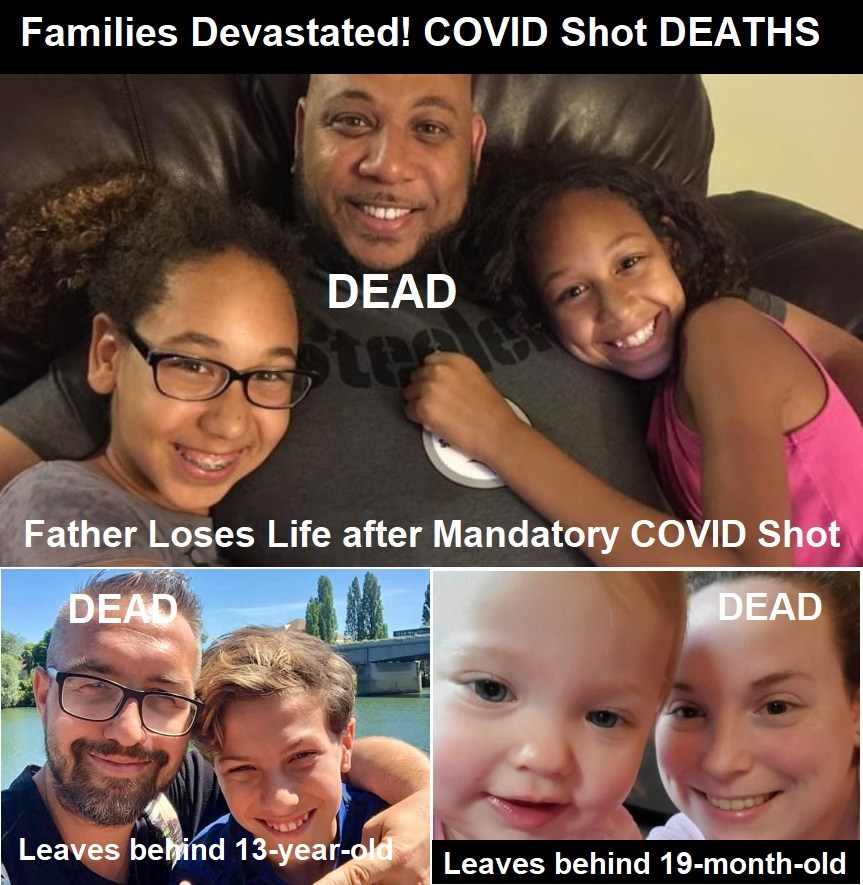 On the verge of losing his home, this husband and father was finally offered a job, but with one catch: he had to get the COVID-19 shots as a condition of employment, something he had avoided up until this time.

Just after getting the second shot, he collapsed on the floor in front of his family and died.

A 23-year-old woman dies from a blood clot just after a COVID-19 shot, leaving behind a 19-month-old daughter.

A father in France mourns the death of his son after he received a COVID-19 shot, tasked now with taking care of his 13-year-old grandson.

We continue to bring you the tragic stories of lost lives and devastated families from those who die in the prime of their life just after receiving COVID-19 shots, deaths that the CDC and FDA say are not related to the shots, and stories the corporate media does not want to cover.
As reported by GreatGameIndia earlier, Robert F. Kennedy Jr., the nephew of former American President John F. Kennedy, in a lengthy piece exposed Bill Gates activities in India and his "obsession with vaccines".

Promising his share of $450 million of $1.2 billion to eradicate Polio, Bill Gates took control of India's National Technical Advisory Group on Immunization (NTAGI) which mandated up to 50 doses of polio vaccines through overlapping immunization programs to children before the age of five.

Indian doctors blame the Gates campaign for a devastating non-polio acute flaccid paralysis (NPAFP) epidemic that paralyzed 490,000 children beyond expected rates between 2000 and 2017.
A 34-year-old woman has died on Wednesday 4th August after she received her first dose of the AstraZeneca Covid-19 vaccine.
Officials said that the New South Wales (NSW) resident died of thrombocytopenia syndrome (TTS), which involves blood clots and a low blood platelet count. The 34-year-old woman is now the seventh (officially) confirmed person to have died of the side effect associated with the AstraZeneca vaccine.
On the 15th July 2021, the UK Government's advisors – the Joint Committee on Vaccination and Immunisation said: `until more data become available JCVI does not currently advise routine universal vaccination of children and young people less than 18 years of age.' They added that the `the health benefits in this population is small and do not outweigh the potential risks.

A few weeks later, on 4th August, the committee changed its mind after the UK's Chief Medical Officers requested that JCVI accelerated its review of advice for jabbing children.

Here's what Dr Vernon Coleman has to say on the subject…
The adverse effects, that is, the illnesses and deaths associated with the Covid vaccines, are showing up in large numbers before the Big Pharma medical establishment can vaccinate everyone. Consequently, the medical establishment and the compliant presstitutes are ramping up the fear and pushing ahead faster to achieve their agendas before the dire consequences of the vaccine escape suppression.
The world is in the grip of rich psychopaths deliberately murdering innocent people for astronomical profits as part of a demonic plan to cull the population and cement their control over the entire world by turning the surviving population into remotely controlled zombies.

The depth of this depraved plan was further elucidated by a Texas doctor who told a German panel of experts that Fauci and his fellow assassins knew the drugs they were pushing would kill those who received them but went ahead with their plan by using controlled media to deceive the public with false explanations that they knew were lies.

Perhaps the most gruesome aspect of this false pandemic scam was revealed in a recent interview of a young Texas doctor who watched his father-in-law perish from inadvisable treatment that revealed to him a plan to destroy people with a toxic drug named Remdesivir.

Watch Dr. Bryan Ardis explain this tragedy to Dr. Reiner Fuellmich and Dr. Wolfgang Wodarg in the video titled Depopulation by Any Means of 8/6/21. https://www.bitchute.com/video/jTiU5Bv5Idge/

In essence Remdesivir is the new AZT, which was the drug the notorious Dr. Fauci used to murder hundreds of thousands of so-called AIDS patients in the 1990s. The drug had been first used in a research study on ebola but didn't make it to the end of the study, Dr. Ardis explained to the famous German panel, which has been diligently interviewing many experts who have been thoroughly revealing the false nature of the so-called COVID pandemic that has disrupted world society for the past year and a half.
Since coronavirus pandemic lockdowns were implemented by many governments in 2020, people around the world have held largely peaceful protests against unprecedented social distancing restrictions that are devastating global economies and ruining people's lives.1 2 3 4 Now, faced with being ordered to obey new laws that require them to be injected with COVID-19 vaccines in order to enter public spaces or hold a job, on July 24, 2021—World Freedom Day—hundreds of thousands of people of all ages took to the streets in Australia, United Kingdom, France, Italy, Greece and Germany to publicly challenge oppressive public health laws.5 6
We are being told to trust the science. But what science? From which scientists? Join James for this week's edition of The Corbett Report podcast as he explores the transparent lies of the "settled science" crowd and how those lies will increasingly be used to run our lives in the new biosecurity state.
Monsanto owner Bayer AG has lost another appeals court decision in the sweeping U.S. Roundup litigation, continuing to struggle to find a way out from under the crush of tens of thousands of claims alleging that Monsanto's glyphosate-based herbicides cause cancer.
Yesterday, Secretary of State Antony Blinken took to the United Nations Security Council to demand global action to hold Iran "accountable" for the July 29th sinking of an Israeli-owned vessel captained by a Romanian citizen in the North Arabian Sea. Two people died in the supposed drone attack.

Blinken, who presents as a moderate but holds Jewish extremist views on Iran, did not provide any evidence for the claim. While many hoped the Biden administration would restore the nuclear deal, US policy towards Iran is in practice just as hostile as the campaign run by Zionists in Trump's cabinet.
When Juan Guerreros heard about New York City Mayor Bill de Blasio's plan to implement a proof-of-vaccination policy for indoor dining, gyms, and entertainment venues, it made him think about relocating because he does not want to get vaccinated.

"My plan is to take out my kids and start finding freedom in Florida or Texas and if we don't have it down there, I've already trained my kids and my wife that we're going to have to die for this fight," Guerreros told the Epoch Times.
McDonald last week ordered approximately 10,000 personnel across the area, including first responders, hospital workers, and childcare providers, to be fully vaccinated against the virus that causes COVID-19 by Sept. 30. Religious and medical exemptions are recognized.
Twitter has temporarily suspended the account of Rep. Marjorie Taylor Greene (R-Ga.) for one week due to "repeated violations of Twitter rules," saying her recent post about COVID-19 vaccines was "misleading."

On Monday night, Greene alleged in her post that "the [the Food and Drug Administration (FDA)] should not approve the COVID vaccines."

Greene said there are many reports of infection among vaccinated people, so these vaccines are "failing" and do not reduce the spread of the CCP (Chinese Communist Party) Virus, also known as novel coronavirus.

"Vaccine mandates & passports violate individual freedoms," Greene wrote in her post.

Twitter put a "misleading" label on her post, and the post cannot be "replied to, shared, or liked."
The widely-praised German model of the Angela Merkel regime to deal with the COVID-19 pandemic is now engulfed in a series of potentially devastating scandals going to the very heart of the testing and medical advice being used to declare draconian economic shutdowns and next, de facto mandatory vaccinations. The scandals involve a professor at the heart of Merkel's corona advisory group. The implications go far beyond German borders to the very WHO itself and their global recommendations.
Carlson said: "You vote for your senators and congressmen and they decide what the rules are. That's known as representative democracy. It's been our system for nearly 250 years.

"But apparently, it's now over. Rochelle Walensky now makes the laws. Walensky announced today that she has decided to nationalize America's rental properties, millions and millions of them from Maine to California. Tenants are no longer required to pay their rent. Property owners cannot evict them under any circumstances," he said.
Who receives the advantage when a word like retarded is suddenly stripped from the proper verbiage and use of the common language. Most would answer with the classic excuse, to protect the children. Bullshit. If anything, this ignorance of the facts has caused more harm to children, as is evidenced in health statistics. So what about pharmaceutical companies? Legal, licensed drug pushers? You know, the ones that came up with the "ask your doctor if this poison is right for you" marketing strategy? In the end, what possible benefit could be had by removing the general term "retarded" and replacing it with quite specific, non-provable psychiatrical terms of art like "autism" and "Attention Deficit Disorder" and thousands of other mental or physical retardations by any other name?
Let me show you.
New York Gov. Andrew Cuomo, a Democrat, announced Tuesday he will resign effective in 14 days after allegations of sexual harassment that were detailed in a state attorney general's report last week.
Wisconsin Gov. Tony Evers on Tuesday vetoed bills that would have narrowed the criteria for mail-in voting and bolstered security surrounding absentee ballots.
The torching of a police precinct in Minneapolis during the 2020 riots was "a genuine revolutionary moment," a Democrat official in the city declared in a recent op-ed.
I found reports of 29 Black-on-white homicides in July—and one white-on-black double homicide where, uniquely, the corporate media Reported Race and even speculated about a possible "Hate Crime."
Progressive and Marxist leaning Rep. Ilhan Omar appeared on 'Democracy Now' this week to push her book and answer questions from the hard left media outlet. Omar continued to support abolishing the Minneapolis Police Department in her quest to destroy the criminal justice system completely.
All commonwealth employees in state health care facilities and high-risk congregate care facilities will be required to be fully vaccinated against COVID-19 by Sept. 7. Those who are not vaccinated will be required to undergo weekly COVID-19 testing. And beginning Sept. 7, all new external hires in these facilities must be vaccinated before commencing employment.
How many times have we warned the corporate elites and sports teams, that if they get "woke," they will indeed to broke?

I mean, it's been a non-stop outcry from consumers and fans for years now.

Yet, even so, these narcissistic companies and selfish "activist athletes" just keep pushing their progressive agenda down everyone's gullets.

It's like they think if they just keep shoving, eventually, we'll give in and raise our BLM fist, while taking a knee in our living rooms.

Give me a break.
The Texas Supreme Court on Tuesday voided a lower court's order that restricted Texas House Speaker Dade Phelan's authorization to arrest and detain state Democrats who fled the state in July to block a GOP-backed voting overhaul bill.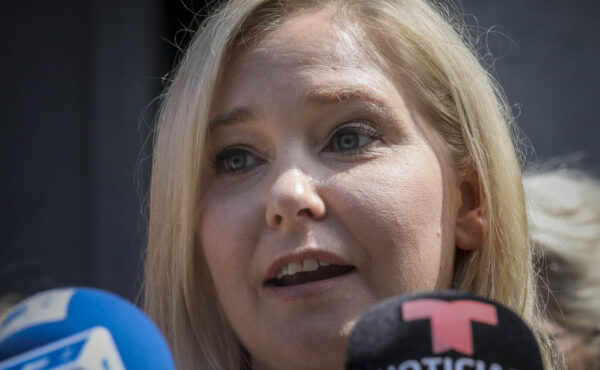 One of Jeffrey Epstein's longtime accusers on Monday filed a lawsuit against Britain's Prince Andrew, saying she was sexually assaulted by him on three separate occasions when she was 17.
Now, with more work being done remotely, many of those same surveillance tools are entering people's homes. A marketing company in Minnesota forced employees to install software that would record videos of employee's screens and even cut their hours if they took a bathroom break that was too long. A New York e-commerce company told employees that they would have to install monitoring software on their personal computers that would log keystrokes and mouse movements—and they'd have to install an app on their phones that would track their movements throughout the workday.