The U.S. Government Vaccine Adverse Events Reporting System (VAERS) was updated today, and there have now been 1,255,355 cases of adverse reactions filed following COVID-19 vaccines since December of 2020, a 17-month time frame.
This includes 27,758 deaths and 51,600 permanent disabilities.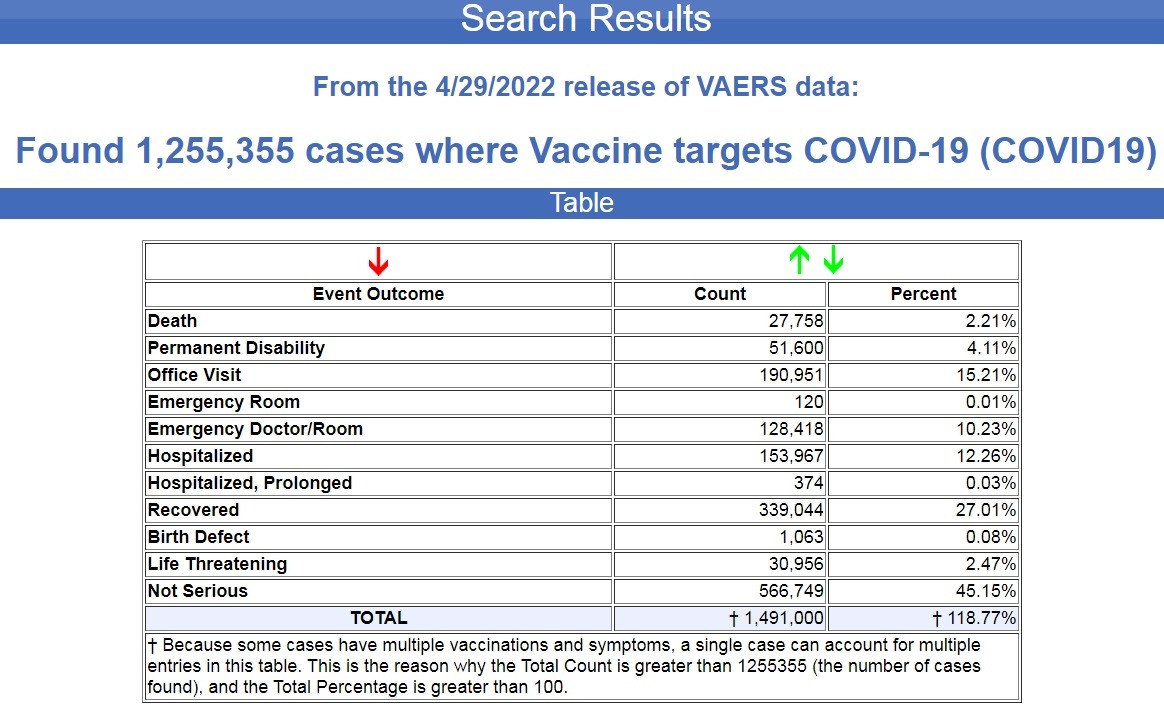 By way of contrast, for the previous 30 years before the COVID vaccines were rushed to market with EUAs (emergency use authorizations), there were 936,214 cases reported with 12,964 deaths and 23,838 permanent disabilities following all FDA-approved vaccines during a 360-month period.

That's a 4,434.22% increase in deaths following COVID-19 vaccines, compared to deaths following ALL FDA-approved vaccines for the previous 30 years.
When a group called Public Health and Medical Professionals for Transparency asked Pfizer to share the raw data from their COVID vaccine trials and post-marketing surveillance that was used to license the injection, the pharma giant linked up with the Food and Drug Administration (FDA) to refuse the Freedom of Information Act (FOIA) requests. In fact, the FDA (meant to serve and protect public health) hired Justice Department lawyers and went to court to shield the pharmaceutical giant from having to reveal its data – for 55 years. That's right. The FDA and Pfizer did not want anyone to see the numbers behind their COVID vaccine until 2076.

Fortunately, a judge ruled that the FDA and Pfizer would have to answer their FOIA requests. Among the first reports handed over by Pfizer was a "Cumulative Analysis of Post-authorization Adverse Event Reports" describing events reported to Pfizer up until February 2021. It reveals that the drug behemoth received more than 150,000 serious adverse event reports within three months of rolling out its COVID shot, but here we will focus on Table 6 of the data on pregnant and lactating women who received the shots in the first few months of the rollout, which began December 11. Most of these women would have been healthcare workers because that was who the first rounds of shots went to. As the clinical trials preceding the rollout excluded pregnant women, these would have been the first pregnant and lactating women to have ever received the vaccines.

Table 6 states that of 270 "unique pregnancies" that were exposed to the vaccine, "no outcome was provided for 238 pregnancies."

This leaves 32 pregnancies with known outcomes.

Pfizer's report states that there were 23 spontaneous abortions (miscarriages), two premature births with neonatal death, two spontaneous abortions with intrauterine death, one spontaneous abortion with neonatal death, and one pregnancy with "normal outcome." That means that of 32 pregnancies with known outcome, 28 resulted in fetal death.
Dr Robin Wakeling is back to present round 2 of Pfizer Under The Microscope. 🔬 He's been working with other teams around New Zealand who are attempting to elucidate just what is contained in these jabs.
A recent uptick in vaccine-derived polio in Africa, and parts of Asia, is being reported due to lack of efficacy in the widely used oral vaccine, triggering pandemic fears.
The faux cover for advanced drones that can fly and hunt in packs is that they will be used in rescue operations. However, there is no technology in China that has not ultimately been used for warfare or suppression of their own citizens. These drones can be easily fitted with explosives or other weapons capable of disabling and/or killing their target.
Agenda ID2020 aims at connecting everything with everything, eventually covering and connecting data from the planet's 7.9 billion people, gradually building up individual, as well as societal data banks, including your highly personal data, bank account information, work information, behavioral trends, criminal records, relations with friends and family – an endless stream of everything that may be linked to an individual, or groups of individuals, and that may be watched and controlled.
It seems programs of government-issued digital money have been gaining momentum all around the world since at least 2020, and apparently, now they exist in over half the countries on the planet.

The newest of these – Brazil and Namibia – announced their plans only last month.

As with all globalist agendas, the push for CBDCs is always part of "the current thing".

First, it was a response to Covid. Then they could help us halt climate change. Then they're a response to the war in Ukraine.

Using that method they have moved from a barely-discussed fringe idea to regular mainstream coverage and 90% of the world trying them out, all within the space of a couple of years (as we predicted they would in our New Years post)

Interestingly, while CBDCs are being talked about more and more, there is one specific feature of them which is being talked about less and less: Programmability.
The Attorneys General of Louisiana and Missouri filed a lawsuit against President Biden and other top-ranking government officials for allegedly working with major social-media companies to suppress speech regarding the Covid pandemic and election integrity, among other topics, under the pretext of combating "misinformation."
DISTRICT HEIGHTS, Md. — On Wednesday, two children, a 4-year-old and a 14-year-old were shot at the Woodland Springs Apartments. District Heights Police say they both survived, but the damage is done.

Neighbors are exhausted with gun violence.

"It's ridiculous. Like why would you do it with a whole bunch of kids? It was a whole bunch of kids. Why do that? I don't understand I don't understand it," one mother, who did not want to be identified, said.

A cleaning company could be seen washing the blood away from the steps where children often play.