Oracle Films, a Bristol-based production company, has released a video called Ask The Experts (Covid-19 Vaccine), uploaded on 7 December.

The video, made in collaboration with Fiona Hine, Founder of CoviLeaks, features 33 Doctors and a few other professionals – including some names you'll be familiar with and others you won't – who all urge caution regarding the CV-19 vaccine.
The President signed an executive order Tuesday, ensuring the American people will receive a COVID-19 vaccine before the U.S. starts aiding other countries. This falls in line with the administration's 'America First' policy, which has been followed throughout the President's time in office.
On Thursday, an FDA panel will be meeting with vaccine-makers Pfizer and BioNtech to decide whether to grant them Emergency Use Authorization. Last week, sources said the vaccine developed by those companies could be approved as early as Friday.
Joe Biden introduced the team to lead his administration's response to the coronavirus pandemic on Tuesday, emphasizing the mass distribution needed to achieve his goal of 100 million vaccinations in his first 100 days in office.

Biden said he needed Congress to fully fund delivering vaccines to all corners of the United States. Getting children back to school will be a national priority in the first 100 days, Biden told a briefing in Wilmington, Delaware.

"In 100 days we can change the course of the disease and change life in America for the better," said Biden. "Whatever your politics or point of view, mask up for 100 days."
Los Angeles, CA – Joe Biden's transition team has announced the intention to nominate former congressman and current California Attorney General Xavier Becerra for HHS secretary and Dr. Anthony Fauci to continue as head of the National Institute of Allergy and Infectious Diseases. Simone Gold, MD, JD and founder of America's Frontline Doctors, offered the following statement in response:

"Americans don't need career bureaucrats, politicians, and lawyers leading this nation through the pandemic. They need medical professionals with front-line expertise. Mr. Biden's choices send a troubling signal about how he intends to handle healthcare policy.

"Xavier Becerra is a lawyer and politician with no medical background. He supports a government takeover of our healthcare which would be disastrous for patient choice, quality of care, and the future of the doctor-patient relationship.

"Dr. Fauci hasn't treated a patient in four decades and his missteps during the pandemic have caused confusion and grave suffering. His early advocacy of a nationwide shutdown led to economic collapse and millions of unemployed Americans. Dr. Fauci's complete reversal on facial masks demonstrates that his recommendations are more closely related to media posturing than sound medical advice. His opposition to early treatments for COVID-infected patients with mild to moderate symptoms was contradicted by the science and condemned thousands of patients to avoidable illness and death.

"America's Frontline Doctors calls on the former vice president to focus on common-sense solutions to the pandemic instead of further politicizing Americans' healthcare to the detriment of patients everywhere."
Biden has proposed a new $200 tax on rifles and magazines, with a $10,000 fine for noncompliance. Registration involves filling out a thirteen-page form, with fingerprints and a photograph of yourself.
Joe Biden has nominated neither CFR member Michele Flournoy nor CFR member Jeh Johnson as Secretary of Defense. Did the CFR lose out on such a key position? Of course not: Biden has instead nominated CFR member Lloyd Austin, a retired general, former CENTCOM commander and current Raytheon board member. Defense contractor Raytheon in turn is a CFR corporate member.

The key positions in the Biden cabinet have thus been filled with CFR member Lloyd Austin (Defense), CFR member Anthony Blinken (State), CFR member Janet Yellen (Treasury), CFR member Alejandro Mayorkas (Homeland Security), CFR member Linda Thomas-Greenfield (Ambassador to the UN), CFR member John Kerry (Special Envoy for Climate), and CFR member Cecilia Rouse (Chair of the Council of Economic Advisors), plus 43-year-old National Security Advisor Jake Sullivan, a member of the Carnegie Endowment and the Marshall Fund (both run by CFR members).

The CIA Director and the US Trade Representative – the two other posts typically (i.e., before Trump) occupied by members of the Council on Foreign Relations – have yet to be announced.

Meanwhile, current US President Donald Trump fired almost all members of the high-level Pentagon Defense Policy Board, including former CFR director Henry Kissinger, former CFR director Madeleine Albright, CFR member and retired Admiral Gary Roughead, CFR member and former ranking member of the House Intelligence Committee, Jane Harman, CFR member and former Treasury Department undersecretary David McCormick, CFR member and former deputy Attorney General Jamie Gorelick, and CFR member and former top defense official Franklin Miller.
There are many reasons why former Vice President Joe Biden's selection of Alejandro Mayorkas for the Department of Homeland Security secretary position is troubling. But there is one episode in particular that screams out among them. That would be Mayorkas' role in President Bill Clinton's January 2001 grant of clemency to a clearly guilty drug smuggler named Carlos Vignali.
These are things that might have been done earlier. During the last, flickering days of the Trump administration, activity is being witnessed across countries which have a US troop presence. Numbers are being reduced. Security wonks are getting the jitters. Is the imperium shrinking? Will President elect Joe Biden wake up and reverse the trend? With the Beltway foreign policy Blob advising him, most likely.
Texas Files Lawsuit Asks SCOTUS To Block Four States From Participating in Electoral College based on the fact that these states did not follow their own state laws for Presidential election, including Pennsylvania's and Georgia's refusal to verify signatures on mail-in ballots as was required by state laws.
Texas Attorney General Ken Paxton appears on Sean Hannity to discuss the legal position of his state in an election lawsuit about arbitrary state processes used in the 2020 election.
Paxton, on behalf of Texas, has sued battleground states Pennsylvania, Georgia, Michigan and Wisconsin to challenge the unconstitutional creation of their mail-in ballots within the election. Several states have now joined Texas in alignment with the lawsuit.
The "Help America Vote Act of 2002" created the United States Election Assistance Commission that led to the replacement of punch-card paper ballots as states outsourced election management to private companies like ES&S, Dominion, and Smartmatic. Today, these vote-counting companies control more than 92% of US elections.

In 2020, Dominion Voting Systems, which supplied the machines at the heart of the Biden vote-stealing scandal, bought Sequoia Voting Systems that contained Smartmatic software. In the 2020 election, Dominion was responsible for 50% of all votes in 30 states and was dominate in every state where the outcome was contested by the Trump legal teams.

Lord Mark Malloch-Brown, chairman of SGO Smartmatic, has been on the board of the Davos World Economic Forum, the prime driver behind the dystopian 'Great Reset' agenda of UN Global 2030; he was a Deputy Secretary General of the UN; and was Vice President of the World Bank; Malloch-Brown is also a member of the highly secret Privy Council, an elite of some 500+ people selected by the Queen of England to run affairs of state. Last week, George Soros announced that Malloch-Brown will be Open Society's new president.

Two of four board members of Smartmatic USA were head of the US Government agency delegated to develop guidelines for voting systems and two were Obama Democrat appointees. One is a Biden adviser.

Any questions?
Republican Claudia Tenney, as of the reported results Saturday, led incumbent Democratic Rep. Anthony Brindisi by 12 votes, according to The Post-Standard in Syracuse.

Last week, 55 uncounted ballots were mysteriously found, The Washington Examiner reported.

As for now, those votes aren't being counted, and 11 of them have been deemed to have been cast by unregistered voters.

Why are votes still being found in December for an election that occurred on Nov. 3?
Not only is the following scientific evidence damning for the 'New Normal' lockdown culture that's been perpetuated, the primary method for reporting 'cases' that public health officials and politicians have been using to wield their newfound power – the PCR test – has just been summarily rendered "useless" by a global team of experts in this new report.
uly 16, 2020, podcast, "This Week in Virology": Tony Fauci makes a point of saying the PCR COVID test is useless and misleading when the test is run at "35 cycles or higher." A positive result, indicating infection, cannot be accepted or believed.
"Let's put this in perspective. First, a relative risk reduction is being reported, not absolute risk reduction, which appears to be less than 1%. Second, these results refer to the trials' primary endpoint of covid-19 of essentially any severity, and importantly not the vaccine's ability to save lives, nor the ability to prevent infection, nor the efficacy in important subgroups (e.g. frail elderly). Those still remain unknown. Third, these results reflect a time point relatively soon after vaccination, and we know nothing about vaccine performance at 3, 6, or 12 months, so cannot compare these efficacy numbers against other vaccines like influenza vaccines (which are judged over a season). Fourth, children, adolescents, and immunocompromised individuals were largely excluded from the trials, so we still lack any data on these important populations."
Democratic Michigan Gov. Gretchen Whitmer's latest shutdown edict violates the First Amendment's protection of the free exercise of religion, according to a new lawsuit.
"A stunning internal survey of New York City firefighters found more than half say they will not take a COVID-19 vaccine when it becomes available to first responders, the New York Post reported…."

The poll was of the oldest and most prestigious first responders union in the country, the Uniformed Firefighters Association.

Bizpacreview said:

"With 8,200 active members, the number polled equals about 25% of membership. An FDNY source told the newspaper that of Friday there were more than 130 positive cases of COVID-19 in the department's ranks."

The estimated overall survival rate of COVID for all ages is 99.8%. Flu is 99.9%.
"The UFOs have asked not to publish that they are here, humanity is not ready yet. Trump was on the verge of revealing, but the aliens in the Galactic Federation are saying: Wait, let people calm down first. They don't want to start mass hysteria. They want to first make us sane and understanding.

"They have been waiting for humanity to evolve and reach a stage where we will generally understand what space and spaceships are. There's an agreement between the US government and the aliens. They signed a contract with us to do experiments here. They, too, are researching and trying to understand the whole fabric of the universe, and they want us as helpers. There's an underground base in the depths of Mars, where their representatives are, and also our American astronauts.

If I had come up with what I'm saying today five years ago, I would have been hospitalized. Wherever I've gone with this in academia, they've said: the man has lost his mind. Today they're already talking differently. I have nothing to lose. I've received my degrees and awards, I am respected in universities abroad, where the trend is also changing."
12bytes says: Dr. Carol Rosin was Wernher von Braun's spokesperson. Keep in mind that Trump recently created a new branch of the military known as the 'space force' while you listen the warning that von Braun gave to Carol: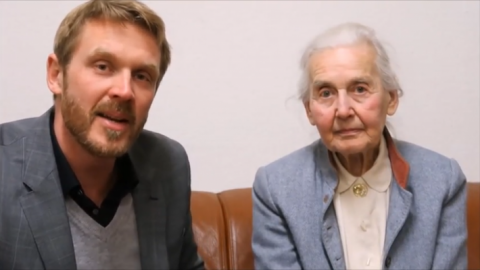 SPIEGEL PANORAMA REPORTED ON 4 DECEMBER 2020, the second day of the Berlin trial that began on 17 November, that the judge in charge convicted our brave Ursula of another year in prison. The most memorable words he spoke in court were that he finds her statements to be "unbearable." I can imagine that he hopes she will die in prison this time so he won't ever again have to hear her unbearable questions that neither he nor anyone else has an answer for. But that is the very crux of the injustice and the reason she must keep asking. From the Spiegel article that's been removed from their website since I accessed it:

"At the very end of the trial of Holocaust denier Ursula Haverbeck, the judge at the Berlin-Tiergarten District Court quotes Oskar Gröning - the former SS man who was sentenced in 2015 at the age of 94 years for aiding and abetting murder in 300,000 cases. In [his] trial before the Lüneburg Regional Court, [professional, paid] Holocaust survivors' reported the horrors of Auschwitz. Gröning also spoke of the gas chambers, of the screams, and of an SS man who hurled a baby with full force against a truck.

"Ursula Haverbeck sat among the spectators in the 2015 trial of Gröning. This did not change anything in her propaganda. The 92-year-old continues to question the murder of millions of Jews. On the fringes of the trial, reporters from NDR asked Gröning what message he gave to Holocaust deniers. Gröning's answer: 'They are irretrievably lost.' It is this sentence that the judge now quotes in Berlin."
Concerns are mounting about the competing Covid vaccinations, as the UK reports it may inject a cocktail of two different vaccines and the FDA warns of "severe adverse reactions' after dose two of the Pfizer vaccine. Polls suggest that Americans are not all eager to stand in line for the shot. Will they be forced? Also today: Are the hospitals really filling up? Respected Coronavirus Task Force Member warns against lockdowns. Heroes and villains in Chicago and Virginia. Texas Attorney General sues battleground states over last minute election changes.
With rollout of various Covid vaccines imminent, we see a simultaneous rollout of the biosecurity state happening on multiple fronts. Under the guise of tracking vaccine effectiveness and side effects, predicting Covid severity risk, and predicting outbreaks, these technological tracking systems are really the mad dreams of the control freak elite, trying to keep an all-seeing eye on the populace.

Implanted chips and immunity passports, Covid-sniffing robots, "very active pharmacovigilance surveillance system[s]", vaccine patches - the Biotech Industrial Complex under COVID-19 is more or less here, just chomping at the bit to be implemented.

So as we sit, more or less helpless, as the Big Brother beyond Orwell's worst nightmares comes to fruition, how is a thinking, seeing person supposed to get by?
Derrick Broze breaks down recent reports indicating that the all pervasive Technocratic Surveillance State is almost complete.
Some Federal Reserve officials are calling for tougher banking regulations in order to prevent the Fed's low interest rate policy from leading investors to take "excessive" risks that will create asset bubbles. The Fed is understandably worried that these bubbles will burst leading to another market meltdown. However, the boom-and-bust cycle will not end because regulators stop investors from taking "excessive" risks. Almost every bubble and economic downturn America has experienced over the past 107 years was caused by the Federal Reserve's manipulation of the money supply.
The World Economic Forum (WEF) was founded fifty years ago. It has gained more and more prominence over the decades and has become one of the leading platforms of futuristic thinking and planning. As a meeting place of the global elite, the WEF brings together the leaders in business and politics along with a few selected intellectuals. The main thrust of the forum is global control. Free markets and individual choice do not stand as the top values, but state interventionism and collectivism. Individual liberty and private property are to disappear from this planet until 2030 according to the projections and scenarios coming from the World Economic Forum.
In a victory for Arizona's GOP, the state's Supreme Court has decided to take on an expedited appeals case over voter fraud. On Monday, the state Supreme Court said it will review the appeal, but will not be hearing oral arguments.
All you members of the GloboCap "Resistance" who have been hysterically shrieking that "Trump is Hitler!" since he won the nomination back in 2016.
Well, OK, it's November 2020. The show is almost over. When do we get Hitler?
The UN's irrational war on carbon is a war against humanity itself. However, if depopulation is the ultimate goal, then it makes perfect sense because the human body is 12% carbon. The carbon cycle in food production and human nutrition requires CO2, and abundantly so.
Until we recognize that we are part of a rich, complex web of relationships with all of humanity, in fact with ALL BEINGS, we will not prevail in our quest to overcome the World Economic Forum's techno-fascist program. While it may be comforting to pull Washington, Jefferson, and Franklin out of the closet, I think patriotic framing is insufficient for the task at hand and will ultimately lead us down the wrong road.
We are in the midst of an epic struggle. Will natural life prevail against the billionaires' plans to push us into the machine, into virtual reality where they will digitally nudge us and bet on our compliance?
Senators on both sides of the aisle are working together on a new coronavirus stimulus package, which looks to come with a price tag of $908 billion.This is a little bit more than the $500 billion package offered by Senate Republicans and far less than Nancy Pelosi's previous bottom line of $2.2 trillion.

This comes after months of gridlock on Capitol Hill over a relief package to help Americans amid the ongoing pandemic. However, many are taking aim at House Speaker Pelosi for playing politics. Back in October, she said she would not accept a bill below $2.2 trillion and criticized President Trump's $1.8 trillion proposal.

"Well I will not let the wrong be the enemy of the right…you know what, do you have any idea what the difference is between the spending that they have in their bill and that we have in our bill?" asked the top Democrat.

Many believe Pelosi and other Democrat leaders did not want to pass the bill prior to the election as it would have been another win for President Trump. Since then, the House speaker has changed course and is now willing to back a smaller package, which is nearly $1 trillion less than President Trump's October proposal.
Welcome to The Daily Wrap Up, a concise show dedicated to bringing you the most relevant independent news, as we see it, from the last 24 hours (12/8/20).
The modern-day woke left demands absolute loyalty.

If you stray from the leftist orthodoxy, even a little bit, mobs of progressives on social media make their move to cancel you forever.

Letitia Wright, one of the stars of Marvel's wildly popular "Black Panther" movie, discovered this on Thursday when she questioned the efficacy of a vaccine for the coronavirus.

The actress shared on her social media accounts a video from the YouTube channel "On The Table" that has since been removed from YouTube's platform.

According to Variety, the video "questions the legitimacy of the COVID-19 vaccine" and "also appears skeptical of climate change, accuses China of spreading COVID-19 and includes transphobic comments."
Windows 10 is packed with features most people don't know about. They can monitor your browsing habits, track your location, and gather information about your activities. Windows has never been known for its security and privacy, so this extensive tracking raises concerns. Luckily, you can adjust your Windows 10 settings to prevent anyone from peeking through your Windows.
12bytes says: This is yet another half-assed advertisement by Carlos Martinez for NordVPN. His idiotic statement that "Luckily, you can adjust your Windows 10 settings to prevent anyone from peeking through your Windows." is ludicrous and dangerous because one cannot possibly pin any hope of privacy or security upon closed-source, propitiatory software. While i am currently using NordVPN, i would suggest that such stupidity and blatant marketing crap is a great reason to look elsewhere if you're considering a VPN. According to my research, Mullvad seems to be a solid and highly recommended choice. Also see my article, Tor versus a VPN - Which is right for you?.