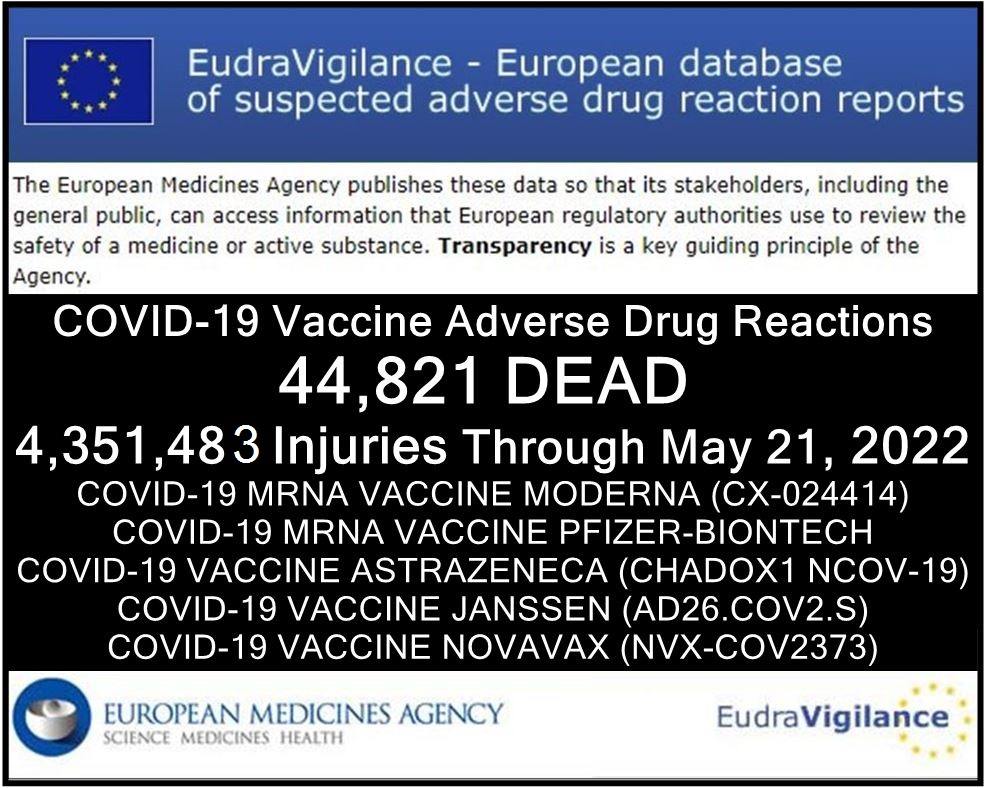 The European (EEA and non-EEA countries) database of suspected drug reaction reports is EudraVigilance, verified by the European Medicines Agency (EMA), and they are now reporting 44,821 fatalities, and 4,351,483 injuries following injections of five experimental COVID-19 shots:

COVID-19 MRNA VACCINE MODERNA (CX-024414)
COVID-19 MRNA VACCINE PFIZER-BIONTECH
COVID-19 VACCINE ASTRAZENECA (CHADOX1 NCOV-19)
COVID-19 VACCINE JANSSEN (AD26.COV2.S)
COVID-19 VACCINE NOVAVAX (NVX-COV2373)

From the total of injuries recorded, almost half of them (1,972,105) are serious injuries.
"What we need to be doing is focusing all of our efforts single-handedly and directly on the criminal prosecution of terrorists who have now aided and abetted in the murder of millions."
Heartbreaking video of mother recording her young daughter's COVID-19 vaccination, her illness, and then a tearful phone call after her death.
Several physicians like Dr. Christiane Northrup are concerned that there may be a lot more information about reproductive damage which has yet to be revealed. This comes off the back of a major peer-reviewed study revealing that menstrual irregularities and uterus shedding cases have spiked after the COVID vaccine rollout.
Reports published by the Government of Canada strongly suggest both the triple vaccinated and double vaccinated populations across Canada are developing full blow COVID-19 vaccine-induced Acquired Immunodeficiency Syndrome (VAIDS).

This is because the official figures confirm the immune systems of triple vaccinated Canadians have degraded by around 67% compared to the natural immune systems of the unvaccinated.
Governments worldwide have been quietly publishing data for months on end that strongly suggests the Covid-19 injections cause extensive damage to the natural immune system, causing recipients to develop a new form of Acquired Immunodeficiency Syndrome.
Now, new data, recently published by the UK's Office for National Statistics, indicates that it only takes approximately 4 to 5 months after Covid-19 vaccination, for so much damage to have been done to the immune system that it can, unfortunately, lead to death, as many people have sadly already discovered.
On Tuesday New Zealand Doctors Speaking Out with Science ("NZDSOS") published an open letter on the need to investigate deaths following vaccination, of which "an unredacted version is being prepared for the Police."
The firings, occurred within days of the employees questioning whether the CDC was artificially amplifying the existence of active monkeypox cases for political gain. RRN was asked to conceal the identities of the fired employees because the CDC had compelled them to sign confidentiality and non-disclosure agreements as a condition for receiving severance packages.
The new evolving hysteria surrounding the alleged emergence of 'monkeypox' in Western nations is not what it appears to be. We are not witnessing the monkeypox virus run rampant across first world countries for the first time ever.
Instead, we are witnessing the latest attempt to advance Draconian biosecurity policies through a monumental coverup of the devastating damage done to the immune systems of people who have had the Covid-19 vaccine. Damage so severe that it can be likened to Acquired Immunodeficiency Syndrome.
And we can prove it…
From inhumane hospital visitation restrictions to campus lockdowns, we look at newly released data showing the devastating effect of COVID lockdowns.
Switzerland was the location for both the World Economic Forum and the WHO's World Health Assembly. Watch as the worlds 'elite' brag and boast about their perceived control. Not everyone was flying high as Modera's CEO whined about having to toss 300M Covid shots in the trash.
The WHO recently announced plans for an international pandemic treaty tied to a digital passport and digital ID system. Meeting in December 2021 in a special session for only the second time since the WHO's founding in 1948, the Health Assembly of the WHO adopted a single decision titled, "The World Together."
As a result of Russia's investigation of US biological research in Ukraine, similar US operations in other regions of the world are now being scrutinized more closely. Reports regarding the Pentagon conducting illegal biological research in Indonesia despite biolabs ban have resurfaced.
Guess how many mass shootings occurred at this school?