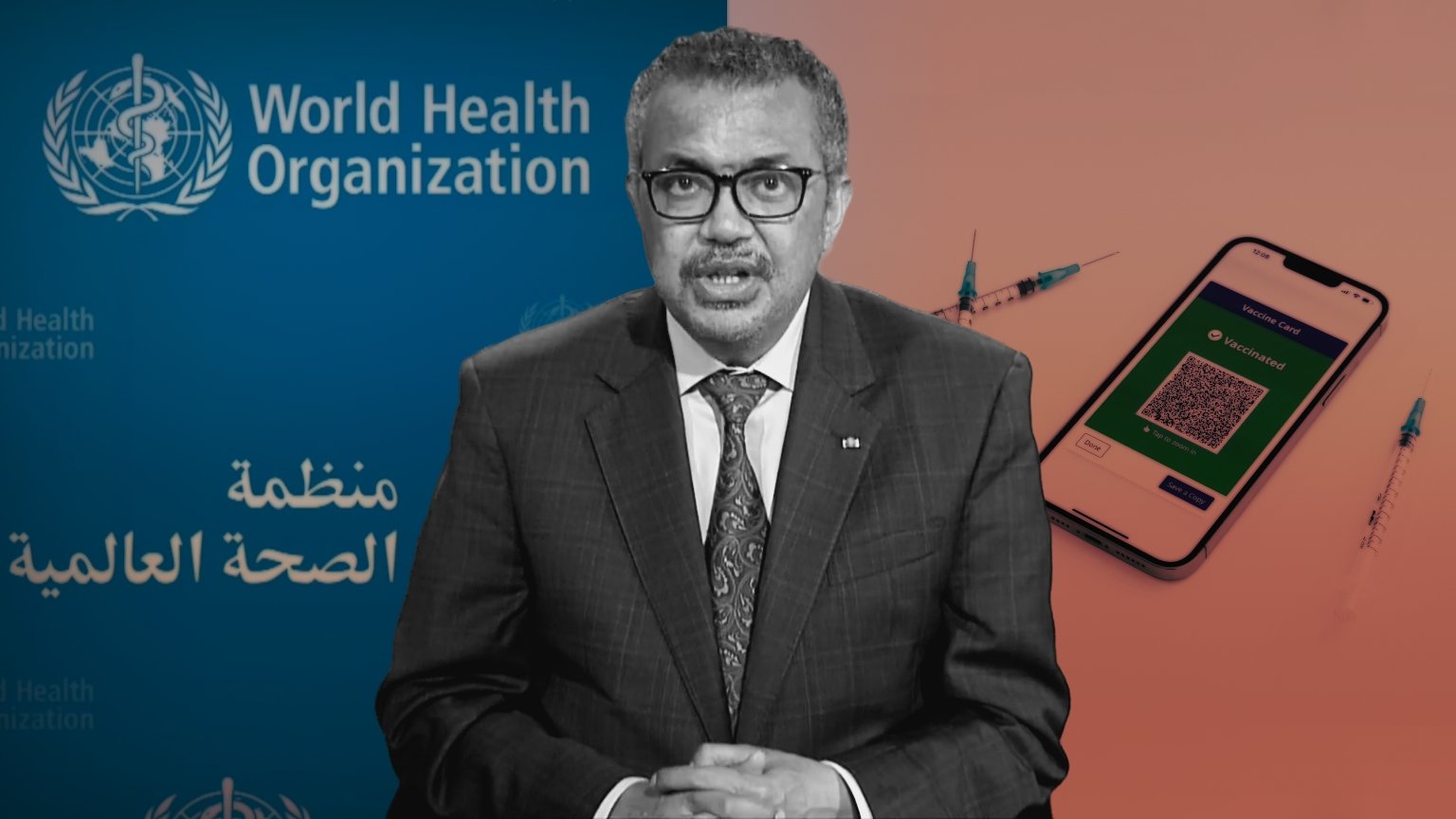 Members of the World Health Organization (WHO) are days away from voting on an international pandemic treaty and amendments to the International Health Regulations (2005) which would give the unelected WHO greater control of national emergency healthcare decisions and new powers to push vaccine passports, global surveillance, and "global coordinated actions" that address "misinformation" whenever it declares a "health emergency."
12bytes: While i disagree with Zelenko's adherence to germ theory (the theory that viruses exist and can be transmitted), i have a lot of respect for this man and i think his message is an important one.
12bytes: Given that viruses do not appear to exist, i don't know what these people are doing gain of function research on, but i'm quite sure it is something other than a virus, possibly some part of the cellular debris that results during what is called the isolation process. More important are the connections that Polly brings to light.
I cover the US's leading Orthopox Virus researcher who conducted at least 2 rounds of gain of function research on viruses related to smallpox. Other revelations about bio-terror 'research' in here too. Support my work: https://amazingpolly.net/contact-support.php THANKS! References below.

NYT Mousepox Gain of Function: https://www.nytimes.com/2003/11/01/us/bioterror-researchers-build-a-more-lethal-mousepox.html

Buller Says Vaccine for Monkeypox (using smallpox vax) NOT recommended: https://pubmed.ncbi.nlm.nih.gov/17661673

Buller paper on Monkeypox Outbreaks up to 2012: https://pubmed.ncbi.nlm.nih.gov/23626656/

Judicial Watch re James Leduc / Wuhan: https://www.judicialwatch.org/wuhan-lab-fauci-grants/

National Biocontainment Training Center report by Leduc: https://apps.dtic.mil/sti/pdfs/AD1022067.pdf
Six months ago, Bill Gates proposed that smallpox could become a new pandemic, and then a narrative of how monkeypox is a growing threat in the US was created. Biden purchased 13 million vaccines for $119 million to prevent monkeypox and smallpox. This weekend, it was reported that about 100 more cases were detected across European countries, Canada and Australia. All of this is convenient timing just as Biden is poised to hand over US sovereignty to the UN World Health Organization.
Brazilian President Jair Bolsonaro is rejecting the World Health Organization (WHO) treaty that will give sweeping powers to the Director General of the organization. Bolsonaro said, "National sovereignty is not something to be handed over to WHO or other entities and to be renounced just to join a club of seemingly advanced nations…"
This ongoing series of articles now totaling forty-six began on 23 Feb 22 and it draws back to even earlier work featuring U.S. Department of Defense war gaming exercises involving hot war scenarios with China over Taiwan circa March 2021. Moreover, the work into Ukraine draws even farther back by years. The point being that with each passing day, this precisely predicted multiple front war scenario that has been constructed and designed for war with Russia over Ukraine and China over Taiwan and the South China Sea continues to incrementally move down an established continuum just as predicted and that includes a designed U.S. loss replete with subjugation to global governance.
In an eerie parallel to an exercise sponsored by Bill Gates and the World Economic Forum (WEF) at the Pierre Hotel in New York on October 18, 2019, nearly two months before the first reports of an unknown respiratory illness emerged from Wuhan, China, another exercise has been unearthed, held in November of 2021, which simulated an outbreak of monkey pox virus on May 15, 2022.

The recent drill was also backed by Gates and the WEF.
From the terrain theory perspective it is a fundamental mistake to attribute a person's illness to a supposed virus, as the subsequent "treatments" don't address the underlying issues. If someone is unwell, then they are usually deficient in nutrients and need to restore balance, or they have been exposed to environmental toxins and need to help the body detoxify. Wars against alleged pathogens that involve treating everyone the same way with civil rights restrictions and vaccines are certainly not about heath. It is good to see more people waking up to the COVID-19 fraud so there is hope that a monkeypox scamdemic, if attempted, will bring even more light to the situation. As always, your best health is in your own hands, not in the hands of a globalist cult and their cronies. If you have been outsourcing your health, there has never been a better time to free yourself from the virus fear narrative and instead begin manifesting your full potential.
A study has surfaced, the results of which are terrifying. A researcher at Kingston University in London, has completed an extensive analysis of the VAERs data (a subdepartment of the CDC which collects voluntary vaccine complication data), in which he grouped reported deaths following the vaccines according to the manufacturer's lot numbers of the vaccines.
The dataset contains various tables showing details such as, 'Monthly age-standardised mortality rates by vaccination status for deaths involving COVID-19', and 'Monthly age-standardised mortality rates by vaccination status for non-COVID-19 deaths'.

Here's an example that has been taken from table 2 of the latest dataset –

As you can see, the ONS has chosen not to include children in the calculated mortality rates despite the fact children as young as 5 are now eligible for Covid-19 vaccination. They also grouped young adults as a group ranging from age 18 to 39, a period of 22 years, while all other age groups are a period of 10 years (40-49, 50-59 etc).

It's things like this that make you believe they must have something to hide, and it turns out they definitely have.

Because on table 9 of the 'Deaths by Vaccination Status' dataset, the ONS have inadvertently provided enough details on deaths among children and teenagers by vaccination status for us to calculate the mortality rates ourselves, and they are horrendous.
Erin Marie Olszewski, RN-BSN, was one of the early whistleblowers who exposed the murders happening at Elmhurst hospital in New York during the early days of the Corona virus "pandemic".
I don't know who needs to hear this, but I recorded my colleagues murdering people while undercover in a locked-down (liability-free) hospital and I still have my license. I'm pretty sure you can speak out now since (by law) we are mandatory reporters.
No one was surprised that Leftists from President Biden down to the governor of New York demanded the eradication of "Hate Speech" after the terrible mass shooting in Buffalo, New York. The rhetoric urging censorship is bad enough. But mandating policies actually to attack free speech are even worse ['White supremacy is a poison,' Biden says as he calls for ending Hate Speech and curbing guns, by Robert J. McCarthy, The Buffalo News, May 17, 2022]. Yet the shooting itself, of course, is not driving the crackdown push. Rather, Leftists fear that mainstream Republican and conservative lawmakers—and, more threateningly, voters—are Noticing the Great Replacement.
NBC News wants people to believe heat in India is something new, and caused by people in western countries burning fossil fuels.
While the government and mainstream media focus on conservative 'extremists' and 'white supremacists' as a major threat, they ignore leftist violence. Axios media obtained a memo from the Department of Homeland Security (DHS) that, following the leaked draft opinion of Roe v. Wade, warned that extremist acts could come from abortion-rights proponents on the left. The Axios article never printed the DHS memo and tried to instead concoct a motive to blame conservatives for the threats to storm the Supreme Court, murder justices and their clerks, and attack places of worship. But this makes no sense as pro-lifers and conservatives will celebrate a decision to overturn Roe. The news outlet Patriot Outlook pointed out that Democrat protesters pose the threat to the Supreme Court.
Our successor to This Week in the Guardian, This Week in the New Normal is our weekly chart of the progress of autocracy, authoritarianism and economic restructuring around the world.
A teacher training at a Texas middle school reportedly instructed teachers to not tell parents if a student tells them they identify as transgender or non-binary, according to documents reviewed by the Daily Caller News Foundation.
An organization called GALAP apparently just hands out letters to anyone wanting "gender affirming" surgery without having to prove anything or get a psychological evaluation.
Male teacher writes about how good it feels wearing women's undergarments to school and coming out as non-binary to his students.
According to publicly available information from Brussels, a "Drag It Up" workshop by a Berlin group was funded with 21 797 euros in tax money. In November 2021, the group Critical Queer Solidarity hosted the "Drag It Up" seminar, which the EU described as a "youth exchange" in Berlin with 38 participants aged between 18 and 30.
Over the centuries, researchers have found bones and artifacts proving that humans like us have existed for millions of years. Mainstream science, however, has suppressed these facts. Prejudices based on current scientific theory act as a knowledge filter, giving us a picture of prehistory that is largely incorrect. Researcher, Scientists and Author Michael Cremo provides a jaw dropping lecture. Are we being lied to about our past?