As of the 1st September the MHRA had received 314,700 reports of adverse reactions to the Pfizer jab, and 820,923 reports of adverse reactions to the AstraZeneca jab. They also received 47,977 reports of adverse reactions to the Moderna jab and 3,244 reports where the brand of vaccinae was not specified.

This brings the total number of adverse reactions to the three available jabs to a truly shocking total of 1,186,844. This means that for every 69 people injected with the Pfizer jab an adverse reaction has been suffered, for every 30 people injected with the AstraZeneca jab an adverse reaction has been suffered, and for every 29 people injected with the Moderna jab an adverse reaction has been suffered.

However the MHRA states that only 1% – 10% of adverse reactions are actually reported to the Yellow Card scheme.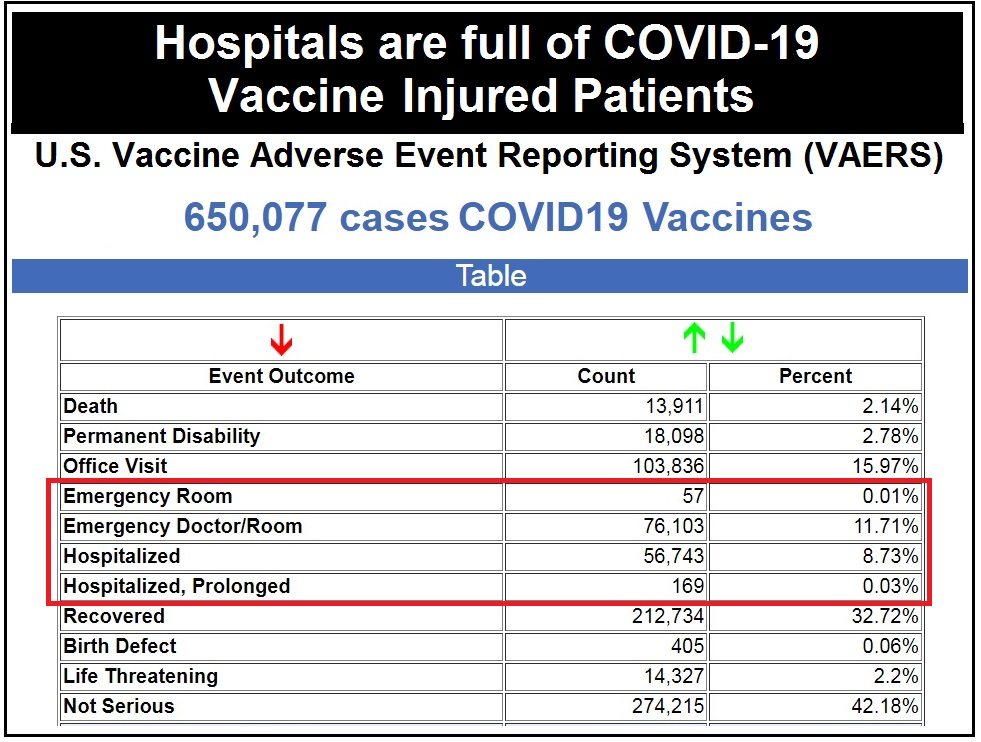 The government and corporate media are lying to the public about who are the people filling hospitals today, claiming it is the "unvaccinated," when the government Vaccine Adverse Event Reporting System (VAERS) and the frontline hospital workers treating the patients clearly state that the COVID-19 vaccine injured are the ones currently filling the hospitals.
(LifeSiteNews) – A six-week-old breastfeeding baby became inexplicably ill with a high fever after his mother received a COVID-19 vaccine and he died weeks later with blood clots in his "severely inflamed arteries," according to a vaccine adverse event report filed with the U.S. government.
President Joe Biden will direct the Department of Labor to develop a rule that companies with more than 100 employees will require vaccinations or once-per-week testing for their workers, potentially affecting tens of millions of U.S. private-sector employees, according to the White House.
A Michigan County health department has revised its COVID guidance letter to parents that originally threatened to arrest them and take their children if the department deemed them a threat to public health.

Allegan County Health Department faced swift backlash after sending notices last week to parents of children exposed to COVID-19 threatening quarantine measures under penalty of arrest.

"In light of the recent questions received and concerns expressed, the quarantine letters have been amended to place greater focus on the educational element and actions that are necessary to be followed, while still maintaining the required language that is mandated to be included," the Allegan County Health Department stated on Saturday.

The original letter told parents the following:

"If you fail to take the actions prescribed in this warning notice, the Allegan County Health Department shall petition the circuit court to seek an order to compel your compliance, which may result in you being taken into protective custody to protect the public's health."
On August 31, President Joseph Robinette Biden Jr. stepped up to the White House podium, squared his shoulders, looked the American public straight in the eye — and told them the biggest lie of his Presidency (so far).

What he said was:

"Last night in Kabul, the United States ended 20 years of war in Afghanistan—the longest war in American history."

But the U.S. war on Afghanistan did not end on August 31. It has only adapted to technological advances and morphed into a war that may be less visible—and therefore more politically sustainable.
In what appears to be an attempt to extricate himself from blame for the COVID pandemic, Fauci — director of the National Institute for Allergy and Infectious Diseases (NIAID), an arm of the National Institutes for Health (NIH), since 1986 — denied ever having funded gain-of-function research at the WIV or elsewhere when questioned by members of the Senate Health, Education, Labor, and Pensions Committee in May 2021.

According to Thacker, the evidence clearly refutes this. One "smoking gun" is a research article written by WIV scientists titled "Discovery of a Rich Gene Pool of Bat SARS-Related Coronaviruses Provides New Insights Into the Origin of SARS Coronavirus." This research was funded by the NIH and meets the Department of Health and Human Services' definition of gain-of-function research.
One out of three registered voters who willingly participated in a large canvass in Maricopa County, Arizona have provided affidavits affirming that they did in fact vote in the 2020 presidential election, when county records reflect that they did not. Trump lost key swing state AZ by a razor-thin 10, 457 votes. There are 505,709 people in the county registered to vote who county records say did not vote.

[...]

Slow motion of 8-year-old Maria Piacesi , flinching forward and clearly elbowing Biden back at :12 seconds.
Social media post of allegedly belonging to Maria Piacesi, now 14 years old.
Six months after the coronavirus vaccines were widely distributed in the United States, the National Institutes of Health (NIH) has called for a $1.67 million study on how the COVID-19 vaccines affect women's menstrual cycles.

Since early 2021, women have reported strange side effects after receiving their first two doses of the coronavirus vaccines.

As per reports women are experiencing irregular menstruation after getting vaccinated against COVID with more heavier and painful periods.

Fearing an increase in vaccine hesitancy among women, the NIH said in an announcement last week that it will further investigate claims that the vaccines negatively affect a woman's reproductive health:
United Airlines employees who are granted a medical or religious exemption have been informed that they'll be automatically placed on unpaid leave, a policy that one expert described as the harshest in America.
Adriana Pinto, 22, is one of those students. Pinto is represented by Children's Health Defense, the anti-vaccine group led by Robert F. Kennedy, Jr. that is already suing Rutgers over its vaccine mandate, and Julio Gomez, the Scotch Plains lawyer who filed the lawsuit.

According to Gomez, Pinto decided not to get the COVID-19 vaccine. She only has one class left to graduate, Quantitative Methods for her psychology degree, which was offered to students either in person or over Zoom this fall.

On Aug. 3, she registered for the remote-only offering of the class, and assumed she was all set for the fall semester.
The emails, obtained through a Freedom of Information Act request by the watchdog and published by Fox News, show a string of communications between the National Education Association (NEA) and White House staffers.

The NEA is the largest teachers union in the United States and advocates for education professionals including public school teachers, support personnel, and faculty members at colleges and universities.

The email correspondence includes a draft statement from the NEA to the White House in which the teachers union criticizes the CDC over its masking guidance after it announced on May 13 that vaccinated people could stop wearing masks indoors and outside.
Actually, the remembrance month I'm proposing has a longer title:

"All Virologists and Molecular Biologists, And Doctors Who Are Neither, But Pretend To Be Both, And Dr. Deborah Birx Who I Understand Has Just Been Promoted From Cashier To Waitress In A Diner Off The Pennsylvania Turnpike Appreciation Month." Thank you all for your service, we love you!

At a recent global virology conference in Davos, I interviewed Dr. Petunia Marigold-Regression about her work in the CDC Deli Lab in Brooklyn.

How's the baloney?

We're pushing tons of it out the door.

Did you isolate a new coronavirus, SARS-CoV-2?

We don't isolate anything. Nobody does.

What then?

We sell STORIES about isolation.

Did you sequence a new virus?

We pretended we knew what the new coronavirus—if there had been one—would look like. We used old RNA sequences, by which I mean DATA, from research libraries, and utilizing a computer program from who knows where, we cobbled together a picture of a genetic sequence.
Technocracy's coup d'etat, in full swing, fully intends to flip the world into a Scientific Dictatorship where every human will be tracked, monitored and managed from cradle-to-cradle. The documentation about this is readily available and very clear. The only question is whether citizens will resist or not.
Mainstream Misinformation Goes Viral; Biggest Vaxhole on Earth Builds Camps; Evidence of Graphene Oxide in Vaccines; NY Teachers Pushing Back
Welcome to The Daily Wrap Up, a concise show dedicated to bringing you the most relevant independent news, as we see it, from the last 24 hours.
On September 5, the government of the United Kingdom confirmed that Brits will soon need to show proof of Wuhan coronavirus (Covid-19) "vaccination" in order to enter nightclubs and large venues.
This week the New World Next Week concentrates on the 20th anniversary of 9/11, from the show trial of the tortured mastermind to more promised documents and another scuttled chance for an MSM airing of the truth.
Unlike typical warrants that authorize the surveillance of specific targets, geofence warrants allow police to collect vast troves of geolocation data from devices within a given area in a certain timeframe. Law enforcers reportedly used geofence warrants to investigate crimes committed during last summer's Black Lives Matter riots, as well as the Jan. 6 Capitol Hill riot—fueling concerns that data from journalists and other innocent bystanders were also swept up in the process.
Red light cameras have proliferated despite overwhelming evidence of their perils. In 2004, a U.S. Department of Transportation–financed study examined hundreds of red light cameras around the nation and revealed that they were "associated with higher levels of many types and severity categories of crashes." In 2005, six years after the District of Columbia set up a red light regime that generated more than 500,000 tickets, a Washington Post analysis revealed that "the number of crashes at locations with cameras more than doubled." A 2007 Virginia Department of Transportation study concluded that cameras were associated with a 29 percent "increase in total crashes." A 2013 report by the Pennsylvania Department of Transportation revealed "a 27 percent increase in the number of collisions involving an injury at red-light cameras intersections" in Philadelphia.