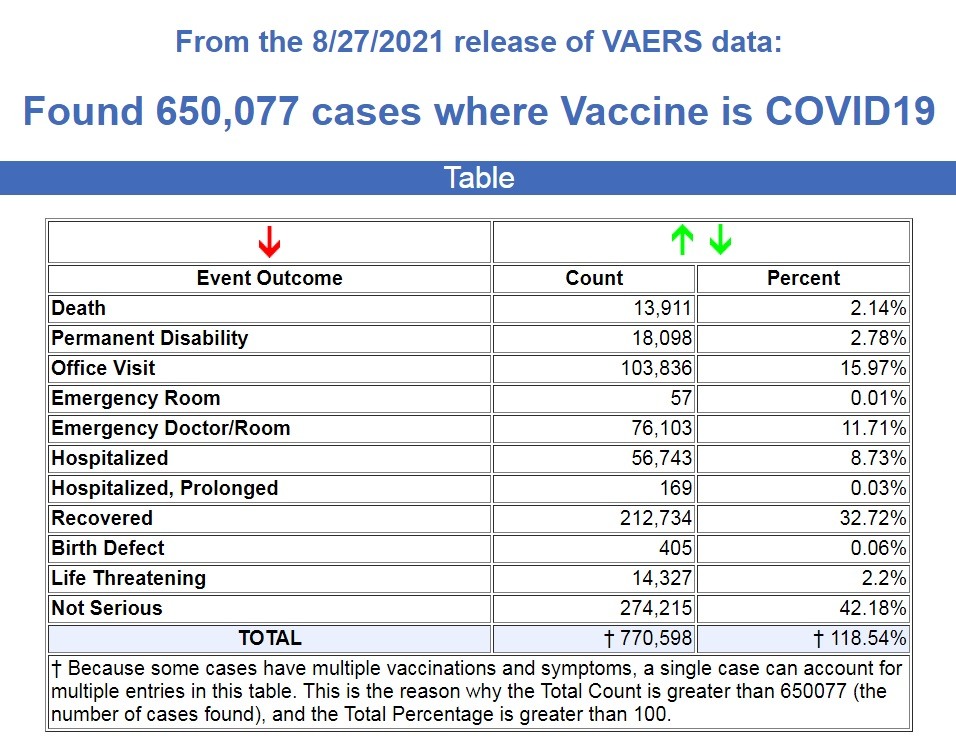 The CDC did another data dump into their Vaccine Adverse Event Reporting System (VAERS) database today. As of August 27, 2021 there have been 13,911 deaths, 2,933,377 injury symptoms, 18,098 permanent disabilities, 76,160 ER visits, 56,912 hospitalizations, and 14,327 life threatening events recorded following experimental COVID-19 "vaccinations."

There have now been more than twice as many deaths recorded following COVID-19 shots during the past 9 months since the COVID-19 shots were given emergency use authorization, than deaths recorded following ALL vaccines for the past 30 years.

From January 1, 1991 to November 30, 2020, the last month before the COVID shots were given emergency use authorization, there were only a total of 6,068 deaths recorded (mostly infant babies) following ALL vaccines.
A report quietly released last week by Public Health Ontario (PHO) tallies the number of people in the province who have presented to hospital with heart inflammation following mRNA vaccination, and it skews heavily towards young people.
The Israeli government has recently announced that the eligibility for a third Covid-19 vaccine might soon be open to all those aged over 30 and then to everyone. Not only that, but the validity of the Green Pass – currently set to expire at the end of the year – might be shortened to six months after the second dose for those who don't get a booster shot.
Just a few months ago, the mainstream media praised Israel for its "pandemic-ending" vaccination campaign. With over 40 percent of the population "fully vaccinated" in the first quarter of 2021, Israel was well on its way to stopping community spread and clearing out its hospitals.

The nation of Israel imposed some of the strictest lockdowns during that time, violating the Nuremberg Code and segregating the unvaccinated from public life. Israel bought up the Pfizer/BioNTech mRNA covid vaccine and began issuing mandatory Green Pass "vaccine passports" as a requirement for citizens to enter public spaces. By August, Israel had intimidated and coerced its population into having one of the highest vaccination rates in the world, with 78 percent of people 12 years of age and older classified as "fully vaccinated."

The world was reassured that this rate of vaccination was more than enough to ensure individual and "herd immunity." However, infection rates have skyrocketed across the country since then, and Israel is now logging the world's highest infection rates, with nearly 650 new cases daily per million people. At times, hospitalizations for the "fully vaccinated" have reached upwards of 95 percent.
On Sunday, Aug. 29, Fauci appeared on the program of mainstream media outlet NBC News, "Meet the Press." He claimed that the federal government is strongly considering providing COVID-19 booster doses to Americans eight months after they get their last dose of the vaccine.
The Pfizer mRNA Covid-19 injection is now being given to children over the age of 12 who are classed as vulnerable or live with others classed as vulnerable, and a Daily Expose Investigation can reveal that all GP's are to be paid £22.58 for every dose given to a child as an incentive, the search engine Google is trying to hide it, and the NHS is advising vaccinators that parental consent is not required.
In February 2020 Reuters reported: "A study published in the New England Journal of Medicine last week reported a coronavirus patient in the United States was found to show an improvement after taking remdesivir, which is also used to treat infectious diseases such as Ebola." This is a lie.

"The Safety Board pulled remdesivir from the [Ebola] study because it killed more people than any of the other three drugs," Dr Bryan Ardis said, "remdesivir killed 54% of all the people that got the drug." And, note that Reuters quoted a study which reported "a" – one – patient with coronavirus who had shown improvement after taking remdesivir.
Is a new worldwide lockdown envisaged as a means to combating the "dangerous" Covid variant entitled "Delta"?

The fear campaign has once more gone into high gear.

Let me briefly review the history of this crisis.

There is a sequence of outright lies and fabrications used to justify far-reaching policy decisions in the course of the last 18 months.

The biggest lie, which is firmly acknowledged both by scientific opinion and the WHO is that the RT-PCR test used to "detect" the spread of the virus (as well as the variants) is not only flawed but TOTALLY INVALID.
These are dangerous times. Our rights and freedoms have never been under a more severe array of threats than they are right now. Ever since COVID-19 has been pushed to the forefront of public consciousness, a new kind of authoritarianism has taken hold within governments around the world. The establishment of a global biosecurity state is well underway. It includes vaccine passports, which are not only a threat to freedom on their own, but also part of a broader platform for digital control of humanity.
As the mandates are increasing and the "deadlines" fast approach, YOU SHOULD NOT QUIT YOUR JOB. Do not be fooled if your boss says you must resign. Make your boss fire you and do not sign anything or agree to anything that says otherwise. Do not agree with "voluntary resignation." If you are fired, you are eligible for unemployment. Anything else and you are not.

If you are fired, you place the costs back on them and you get or you fight for unemployment benefits. Let them experience the burden associated with their choices.
In order to oppose this new form of totalitarianism, we need to understand how it both resembles and differs from earlier totalitarian systems. The similarities are fairly obvious — the suspension of constitutional rights, governments ruling by decree, official propaganda, public loyalty rituals, the outlawing of political opposition, censorship, social segregation, goon squads terrorizing the public, and so on — but the differences are not obvious.

Whereas 20th-Century totalitarianism (i.e., the form most people are generally familiar with) was more or less national and overtly political, New Normal totalitarianism is supranational, and its ideology is much more subtle. The New Normal is not Nazism or Stalinism. It is global-capitalist totalitarianism, and global capitalism doesn't have an ideology, technically, or, rather, its ideology is "reality."
Dafna Tachover is an attorney and former telecoms specialist for the Israeli Defence Force.

Dafna Tachover is director of the Children's Health Defense 5G & Wireless Harms Project. She is an attorney in both New York and Israel, has an MBA and is the founder of We Are The Evidence, an advocacy organization for the protection of the rights of the many people who have been injured by wireless technology radiation.

She has a technology background including in wireless networks and infrastructures from her service in the Israeli Defense Forces as a telecommunication and computers officer and the commander of the computer center of the IDF's Operations Center and of its headquarters.

She recently sued the US government for ignoring safety studies surrounding the current 5G rollout.

And won.
Welcome to The Daily Wrap Up, a concise show dedicated to bringing you the most relevant independent news, as we see it, from the last 24 hours.
FULL SHOW! September 3, 2021 "The Stew Peters Show" welcomes:

Bobby Piton: Expected "leaks" coming from GOP may be intended to derail the TRUTH TRAIN, chill the push for election integrity.

COVID being used as excuse for incompetence, massive sex-trafficking cover-up.

DEAD PILOTS! Dr. Jane Ruby reveals another pilot dead due to a stroke, along with a daughter of a pilot that reveals major health problems in her pilot father after the jab.

Steve Lynch is running for county executive, and his worldwide viral speech has been used against him as he's labeled as a "violent radical"
Respiratory syncytial virus (RSV) — a respiratory virus that causes typically mild cold-like symptoms — is emerging out of season around the world

Most children have been exposed to RSV by their second birthday and recover without incident. In rare cases, RSV can progress to pneumonia or bronchiolitis (inflammation of the small airways of the lungs)

August 3, 2021, the U.S. Food and Drug Administration granted fast-track designation to Moderna for an mRNA-based injection against RSV

As with coronavirus, previous efforts to develop an RSV vaccine have met with failure as test subjects have a tendency to die or become seriously ill when exposed to the wild virus, thanks to paradoxical immune enhancement (PIE), also known as antibody dependent enhancement (ADE)

Moderna's RSV shot uses the same lipid nanoparticle as its COVID-19 injection. The mRNA will encode for a prefusion F glycoprotein, a protein that mediates the RSV virus' entry into your cells and is known to elicit a neutralizing antibody response
The states, led by Tennessee, asked the court to block a guidance (pdf) issued this June by the Education Department. In a "Fact Sheet" attached to the guidance letter, the Department warns that it may launch a Title IX investigation if a school prevents a student from joining a sports team or using the restroom or locker room that aligns with the student's gender identity.
A school board in Northern California faced intense backlash from parents this week after a high school teacher apparently bragged on camera that he wanted to turn his students into revolutionaries, had a poster of Chinese communist tyrant and mass murderer Mao Zedong on his wall, and had an Antifa flag.
The Russian sushi chain Jobidojobi triggered an outcry with its multicultural advertising campaign in an Instagram post. Conservative citizens saw it as a gross insult to Russian women and campaigned against the advertising after Jobidojobi posted a picture on social media of an African man eating sushi. He is surrounded by three adoring Russian women. The obvious sexual overtones in the picture caused great displeasure and the company was flooded with angry messages.
"Tessa" Ganserer has been a Green Party member of the Bavarian State Parliament in Germany since 2013. In 2018, the married man with two sons came out as transsexual, wearing an ill-fitting blonde wig, short miniskirts and carnavalesque make-up. One citizen, who could not suppress his laughter online at this clown-like transformation, has now been harshly punished.
12bytes: If this becomes the norm, which is not unlikely, this could cause a substantial left-leaning shift among juries.
U.S. District Judge Edward Davila, an Obama nominee, dismissed on Thursday in California nine jurors who had not received a COVID-19 vaccine.
Prosecutors last month said that they did not want to "provide an exhaustive list of co-conspirators, whether in a bill of particulars or otherwise, and does not intend to do so absent further order of the Court."

They also said they only planned to introduce co-conspirator statements from Epstein and an employee of Epstein at the upcoming trial and argued there was "no basis" to require disclosure of the currently unnamed alleged co-conspirators.

"This Court has twice concluded that no bill of particulars is warranted because the defendant has adequate information to prepare for trial and avoid unfair surprise," they said in a filing in the case.

Nathan, an Obama nominee who once served as an associate White House counsel during the Obama administration, disagreed.
"The number is something I don't want to estimate because—as I've mentioned before—our commitment is an enduring one," he said. "This is not just a matter of the next several weeks. We will not rest until we have accomplished the ultimate goal of Operation Allies Welcome."