Israel, which recently gave Anthony Fauci a million dollar "award," is planning to "brief" the FDA on why they need to approve endless booster shots for the American public.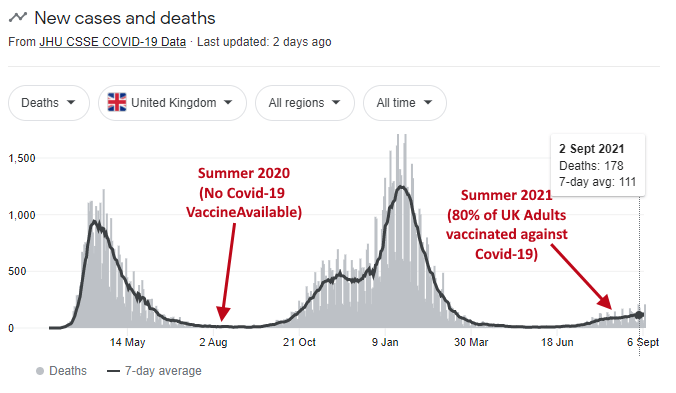 Further evidence proving the Covid-19 vaccination programme is a huge failure has been released which confirms throughout the whole of August 80% of the people who allegedly died of Covid-19 had been vaccinated against the disease.

Take a look at the latest Covid-19 Statistical Report released by Public Health Scotland (PHS) on the 8th September 2021.

According to table 16 of the report between the 28th August 2021 and the 3rd September 2021 there were 36 admissions to hospital related to Covid-19 among the unvaccinated over 60 population, whilst there were 7 admissions on the partly vaccinated population.

However, there were a huge 299 admissions among the fully vaccinated over 60 population, and the same pattern can be seen for the weeks previous all the way back to the 7th August 2021.

In all for the week of 28th August to 3rd September 2021 there were 271 hospitalisations among the entire unvaccinated population but 423 hospitalisations among the fully vaccinated population. If we base these hospitalisations occurring after the previous weeks confirmed cases then we can calculate the case-hospitalisation rate.

In the week beginning 21st August there were 15,047 confirmed cases among the unvaccinated population. Therefore based on the unvaccinated hospitalisation figures of 271 in the week beginning 28th August the case-hospitalisation rate is 1.7%. However, when we carry out the same calculation for the fully vaccinated population hospitalisations (423) and cases (14,519) we can see that the case-hospitalisation rate is 2.9%.

Therefore, this shows that the Covid-19 injections are increasing the risk of hospitalisation when exposed to Covid-19 by 70% rather than reducing the risk by the 95% claimed by the vaccine manufacturers and authorities.
President Joe Biden ordered widespread vaccination mandates on Thursday, demanding that private businesses mandate vaccinations for their employees.
"This is not about freedom or personal choice," Biden said during a speech from the White House. "It's about protecting yourself and those around you."
The Republican National Committee (RNC) on Sept. 10 announced it plans to sue President Joe Biden's administration over its COVID-19 vaccine and testing mandate.
More than a dozen governors and two attorneys general late Thursday issued statements defying the Biden administration's impending vaccine mandates for federal workers and private-sector workers.
Authorities in the United Kingdom are so desperate to vaccinate children that they have decided to disregard the decision made by the Joint Committee on Vaccination and Immunisation to not recommend children are given the jab and have tasked the Chief Medical Officer Chris Whitty with making the decision instead.
Congress has approved essentially three big buckets of money for K-12 schools to help cover their pandemic costs: $13 billion from the CARES Act of March 2020, $54 billion from a December follow-up relief package and a whopping $122 billion from the American Rescue Plan, passed in March. The American Rescue Plan is "huge," said Georgetown University's Marguerite Roza, who studies school finance. "It is for sure the largest one-time federal investment in public education in this country."
Saudi Arabia's Covid-19 rules now mandate that all public and private sector workers wishing to attend a workplace are vaccinated, as well as anyone wishing to enter any government, private, or educational institution, including schools, shops, malls, markets, restaurants, cafes, concert venues, or public transportation. As a result of this coercive move, the country's vaccination rate has predictably soared.

Other countries taking draconian steps to force their citizens to submit to Covid-19 vaccinations include the Philippines, where President Rodrigo Duterte is warning that people who refuse to get vaccinated will not be allowed to leave their homes; Turkmenistan, where the healthcare ministry recently made Covid-19 vaccination mandatory for all residents aged 18 and over; Indonesia, whose capital Jakarta is threatening residents with stiff fines if they refuse to be vaccinated; and Israel, where vaccine passports will not be renewed unless people submit to so-called 'booster' shots.
With the over 900 pages of newly released documents, which exposed the true nature of the research that the United States was funding in Wuhan, Dr. Fauci seems to have landed in some hot water.

That's because, over the last six months, he has on multiple occasions denied that the United States was funding gain-of-function research in China. However, these documents seem to suggest otherwise.

And so, not only are senators now seeking answers, but Dr. Fauci has also now been referred to the Department of Justice for potentially lying to Congress.
Suzanne Humphries, MD, speaking on Polio at the Association of Natural Health Conference in 2012.
A study published in 2017 found that people taking antibiotics for long periods of time have an increased risk of developing polyps in the colon, a known precursor of bowel cancer. Published in the journal Gut, the study provided further confirmation that maintaining a healthy intestinal microbiota may play a key role in the prevention of cancer.